Product Description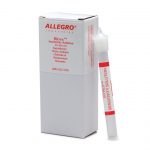 The Bitrex Sensitivity Solution is for respirator fit testing and is a replacement for the solution that comes in Allegro 2041 Bitrex Fit Test Kit. Each Bitrex Sensitivity Solution comes in a glass ampule and contains 2.5 cc of the solution. Each ampule averages 3-5 test.
Bitrex sensitivity solution for Bitrex Respirator Fit Testing.
Allegro 2041-11K
6 disposable glass ampules per box.
Replacement Bitrex Test Solution is offered in glass ampules with pre-drilled plastic cap for easy pouring. Plastic protects tester from broken glass. Each one time use ampules contains 2.5 cc of solution which averages between 3-5 fit test. Six ampules per box. Need Parts ? Give us a call 800-506-0091
Average 3 to 5 Fit Tests Per Tube
Bitrex Test Solution is used for Respirator Fit Testing. The Bitrex Test Solution comes in glass ampules and each one time use ampule contains 2.5 cc of the solution. You will receive 6 ampules in each box. Each ampules averages 3-5 fit testing each.
Bitrex test solution only for Bitrex respirator fit test kits
Allegro 2041-12K
6 disposable glass ampules per box.
The Replacement Bitrex Test Solution is offered in glass ampules with pre-drilled plastic cap for easy pouring. Plastic protects tester from broken glass. Each one time use ampules contains 2.5 cc of solution which averages between 3-5 fit test. Six ampules per box.
*Average 3 to 5 Fit Testing Per Ampule